Personal branding : styling and photography

Introducing our CAPTURED photo shoot with client Mel Thomas.  Photographer Simona Janek and I worked with Mel recently on her personal branding imagery.  Mel is a powerhouse.  She came to us wanting images that would capture the essence of who she is for all her different social media platforms and publicity needs.

Mel is the founder of not-for-profit KYUP! project which aims to empower young people against domestic violence.  She's also a 2nd Dan in Hapkido martial arts, a Cosmopilitan Woman of the year winner, a mentor, a mother to two gorgeous girls, and a key note speaker.

Mel needed a variety of images she could use over an extended period of time, images that would represent all that she is, what she stands for and the work she does for the community.  The images needed to be authentic, professional, approachable and capture all facets of Mel's personality.

*As courtesy to our client, we can only do a mini reveal of Mel's pics here.  To see more you'll have to follow Mel and her adventures by clicking the link to her KYUP! Project below.
PRE-SHOOT CONSULTATION
Prior to the shoot, Simona and I had a consultation with Mel to find out what she needed her photos for.  Who her audience is, and the reach her photos needed to have.  Mel wears many hats in life, so the photos had to cover a wide range of facets to Mel's work, while still showing her fun, strong, and out going personality.
THE RIGHT CONTENT IS KEY
For our personal branding, styling and photography sessions I work closely with photographer Simona Janek in the pre-planning phase of the shoot.  We help work out the right content for our clients.  Content that speaks with authenticity and tells a story.
The styling and creative direction is where the magic lies – it's a game changer for our clients.  By extending the shoot outside of the usual headshot space of one or two studio based looks – the Captured session gives our clients a gallery of different images they can pull from for different marketing and personal branding needs.  We shoot clients in a range of studio, location and life-style set ups, all styled according to their individual needs.  This ensures they have the variety of images to sustain the on-going demand for content.
Since doing the shoot Mel has already experienced the benefits of having a suite of photos at the ready she can choose from for various things.   It's taken the stress out of being asked for a photo!
Mel you are amazing and we loved working with you.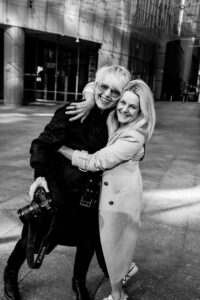 To find out more about the fantastic work Mel Thomas does through her not for profit charity KYUP! click on the link below.
As Founder of KYUP! Project Mel is at the forefront of working hard to fight against systemic domestic violence in Australia.
If you'd like to book in for a Captured styling and photography session, or want to find out more, click the link below to touch base with us.
Contact Luxe Visual CoLab here